The Norgrove's of NOJA Power - Four Generations of the Norgrove Family at NOJA Power
August 29, 2017 Brisbane Australia - For all our associates around the world who have done business with NOJA Power, chances are you have met the Norgroves. Elizabeth and Peta, in Procurement and Contracts departments respectively, have been with NOJA Power since the very early days and have very much grown up with the company.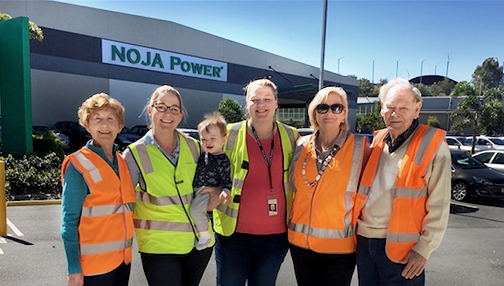 Yesterday, the Norgrove family dynasty toured the new facilities at NOJA Power's Archimedes Place complex and marvelled at how far both the business and the sisters have come.
Peta started at NOJA Power at age 18, straight out of high school and ready to take on the world. At the time, NOJA Power was a small business just starting out. Just like Peta, NOJA Power had big aspirations to contribute and make a difference. It would only be in their wildest dreams that one could envisage the growth they would enjoy since then. Fast forward to 2017, both NOJA Power and Peta are into their second decade of achievements with Peta leading the Contracts department and NOJA Power being the largest Australian switchgear manufacturer.
Not long after Peta joined NOJA Power, her sister Elizabeth came to join the company as NOJA Power's ranks expanded to cope with demand. Utilities worldwide were joining NOJA Power's vision to bring reliability and safety to the electricity distribution network, and with the expansion of the manufacturing facility a dedicated procurement professional was required.
When Peta joined the company her family were invited to tour the offices, eager to see what Peta would be doing in her formative years after school. Yesterday, that same family delegation (with some new young additions) toured the facility and marvelled at the inspirational growth seen by the company.
"It has been very rewarding to grow and mature with NOJA Power in my career and as a person over the past seven years," says Elizabeth. "What we have achieved as a company within 15 years is something to be proud of."
Peta Norgrove added, "It has been an amazing journey working for NOJA Power, it's been challenging but most of all rewarding. I am so grateful to work for a stable growing company that cares so much for their staff's wellbeing. I really couldn't ask for more from a company."
"Peta and Elizabeth have enjoyed the success they have at NOJA Power because of their loyalty and dedication to the company," says NOJA Power Group Managing Director Neil O'Sullivan. "It has been a pleasure to see them grow and mature over their careers at NOJA Power."