2017 Corporate Profile records NOJA Power's continued investment in facilities, new product introductions and strong financial performance in distribution automation
48-page publication details continued growth in medium-voltage switchgear export market, strong emphasis on innovative smart grid solutions and award-winning employee wellbeing program.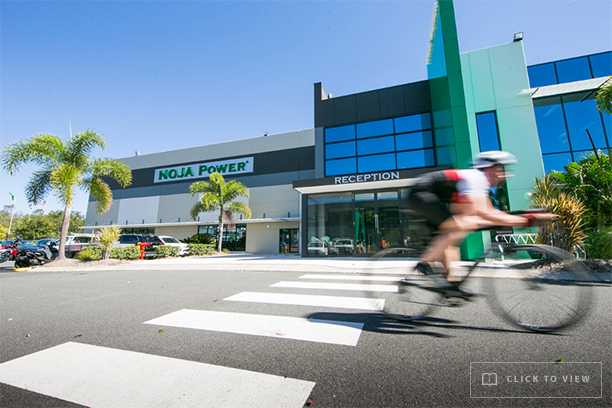 Brisbane, Qld, Australia – January 24, 2017 – Electrical switchgear engineers NOJA Power today announces the publication of its 2017 Corporate Profile. The 48-page publication provides a comprehensive overview of the company's progress to date and its investment to ensure future growth together with reports on manufacturing, research & development (R&D), staff recruitment & development, product quality and customer service. In addition, a section of the profile details the company's financial performance and shows a maintained level of net-profit-after-tax growth and increasing net-worth growth (compared with 2015).
"The new corporate profile provides an up-to-date insight for customers, analysts, staff, the press and other interested parties into NOJA Power's progress towards its vision to be the world leader in medium voltage outdoor switchgear," says Neil O'Sullivan, NOJA Power Group Managing Director. "By reading the profile it's clear that in 2016 that progress was rapid.
"In addition to consolidating the company's strong financial footing we continued to enhance our OSM series product range to ensure it is the optimum solution for smart grid automation and monitoring, doubled the size of our Brisbane campus, received further recognition for our award-winning employee health & wellbeing program and recertified our quality and environmental management systems to ISO 9001 and 14001 standards.
"In addition to these significant developments 2016 saw us launch our new VISI-SWITCH® product. This product will revolutionise enclosed load break switches on distribution networks and fuel significant growth in NOJA Power's business over the coming years." 
   NOJA Power Directors
NOJA Power specialises in the R&D, manufacture, marketing, sales and service of low- and medium-voltage switchgear products. The company's main product family is one-, two- and three-phase Automatic Circuit Reclosers (ACRs) specifically engineered to form the fundamental building blocks of smart grids. Over 40,000 NOJA Power OSM series medium-voltage (15, 27 and 38 kV) Automatic Circuit Reclosers (ACRs) have been installed by utilities in 85 countries around the world.
The 2017 Corporate Profile covers the company's history, structure, manufacturing, R&D, quality assurance, financials, NOJA Power Brazil, channels to market, global support, product lines, employee profile, health & wellbeing program, and awards & memberships.
Among the highlights of the profile is information on the introduction of VISI-SWITCH®, a 15.5kV, 800A load break switch (LBS) which is the only vacuum interrupt solid dielectric insulated load break switch available in the world today that has patented visible break capability and meets the requirement for insulation coordination standards. The profile also details the company's investment in a 4300m2 Manufacturing Campus to create a single site in Brisbane extending to over 16,000m2. The $10 million investment enables the company to enhance its manufacturing capabilities in anticipation of demand for VISI-SWITCH® and includes R&D electronics, impulse test and synthetic test labs.
In addition, the publication reveals that up to 10 percent of the company's turnover is invested in R&D every year with a focus on exceeding the client and market expectations. The R&D team places a strong emphasis on the development of environmentally friendly products which provide a high level of safety features. In its financials section, the profile also reveals that net-profit-after-tax growth exceeded 25 percent for the second year running and net-worth growth increased to nearly 30 percent during 2016.
NOJA Power is increasing its market share as a major supplier to the distribution automation (DA) and substation automation (SA) sectors at a time when the sectors are undergoing a revolution. Utilities across the globe are seeking to improve reliability, upgrade and replace aging infrastructure, and integrate new distributed generation (DG) resources into distribution networks. According to analyst Navigant Research, for example, global annual DA and SA revenue is expected to grow from US$7.60 billion ($10.16 billion) in 2016 to US$12.20 billion ($16.31 billion) in 2025.
NOJA Power's 2017 Corporate Profile is available in Flip Book and PDF format from the company's website ( www.nojapower.com.au/about.html ).