NOJA Power Winner of The 2009 Prime Minister's Australian Exporter Of The Year Award
NOJA Power has been named the Prime Minister's Australian Exporter of the Year at a National Award Ceremony in Canberra on 20 November.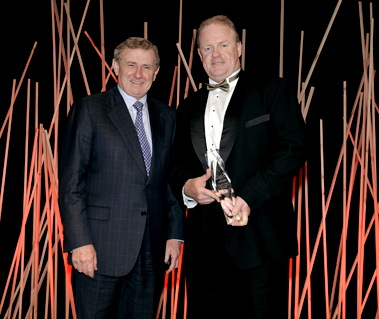 The 12 Australian Export Award winners are impressive examples of companies that have achieved sustainable export growth through innovation and good management.
Congratulating the National Winners, the Minister for Trade, the Hon. Simon Crean said that collectively, these 12 companies had earned more than $1.5 billion in export sales during the last financial year and employed nearly 2,500 people.
An exemplary model of exporting success, NOJA Power is an Australian company that has not only achieved a remarkable growth in just seven years, but has a robust business model that should see it sustain this success in the long-term.
NOJA Power designs and manufactures low and medium voltage switchgear products that are considered to be leading edge technology, and are subject to a number of patents. The company conducts an aggressive research and development program that involves extensive market research to identify changing customer needs and the regulatory environment, which allows it to be responsive to new export growth opportunities.
The environmental benefits of NOJA Power's products represent a unique selling point for the company. It has developed a range of products that completely eliminate the need for the oil or sulfur hexafluoride (SF6) typically used in the industry as insulants. Both of these have negative environmental implications – the Intergovernmental Panel on Climate Change considers SF6 to be the most harmful greenhouse gas it has evaluated.
Founded by Neil O'Sullivan, Oleg Samarski, Jay Manne, Quynh Anh Le in 2002 (the company's name is derived by the first letter of each first name), NOJA Power has grown to 80 employees and every one of those jobs can be directly attributable to export growth.
Now exporting to 72 countries, NOJA Power is rightly proud of the high level of repeat business that it generates – a testimony to the quality and reliability of its products.
The senior management team, which comprises all four company founders, regularly travels to export markets, not only to explore new opportunities but to ensure existing markets are being serviced correctly. This level of commitment, along with a very clear financial model for reinvesting profits, has been critical in building the company. This trend is likely to continue due to the differentiated products, prudent financial management and a strong presence in markets with substantial growth potential.
Another example of the company's growth has been the need to build a $7 million purpose-built facility to provide additional production capacity. NOJA Power also intends to hire additional production staff in order to meet demand over the next year.
Overall, NOJA Power's extraordinary export performance has resulted in it being selected as the most outstanding exporter of the year, and winner of the most prestigious export award in Australia, the Prime Minister's Australian Exporter of the Year.