NOJA Power Start Search for next power engineering cadet
Established scheme supports successful candidate through four-year university course while providing on-the-job training in power engineering to accelerate progress to professional engineer status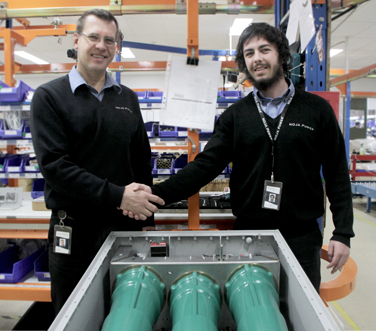 Electrical switchgear engineers NOJA Power today announces the engagement of Norton Kelly-Boxall into the company's engineering cadetship scheme. The scheme is designed to develop undergraduates' practical skills in engineering in order to accelerate their effectiveness once they enter industry.
NOJA Power's initiative takes on additional significance because Engineers Australia––the leading professional body for engineers in Australia––has identified that a shortage of engineers is likely to harm Australian prosperity unless it is addressed.
"Australia is not currently producing enough engineers to meet domestic demand let alone export this capability overseas," Engineers Australia noted in a statement in October 2012. "As the demand for engineering professionals increases in the Asian region, fewer skilled engineers will migrate to our shores which will create increased pressure on the shortage of engineering skills in Australia," continued the statement. "Australia needs to produce enough engineering professionals to develop our own infrastructure, as well as contributing in an international context."
Kelly-Boxall is a first year student at Queensland University of Technology (QUT) where he is studying for a Bachelor of Engineering (BEng.) degree. Kelly-Boxall was educated at Cleveland District State High School, Cleveland, Queensland, and was selected from over a hundred applicants and a shortlist of 12. He attends QUT for four days a week and spends the other weekday, and his university breaks, adhering to a structured program of practical training in the research, design, manufacture and test of NOJA Power's products at its Brisbane based facilities.
The scheme provides Kelly-Boxall with an engineering cadet wage for the four-year duration of his course. After graduation, NOJA Power will employ him as an engineer for three years - providing a fast start to his career with professional experience.
"It's one thing to choose engineering as a university course but quite another to have a passion for the discipline," says Jay Manne, NOJA Power's Engineering Director. "That's why we were keen to identify a candidate that had spent time building things and is generally familiar with the 'design, prototype, test, refine' process used in manufacturing."
"Norton exemplifies the kind of undergraduate engineer we set out to select for this program," continues Manne. "He is very practical and enjoys putting things together. On the production line at NOJA Power he picked up the assembly tasks very quickly. Not only that, but he was also able to identify some areas of the current production process that could benefit from changes."
"The cadetship gives you a taste of what things are like in the real world," says Norton Kelly-Boxall. "I can get involved with designing a commercial NOJA Power product alongside experienced engineers. There is no aspect of a university course that can compete with that. Many of my fellow students have jobs, but not in relevant positions where they're gaining the experience I'm getting - it's invaluable.
"NOJA Power's engineering cadetship equips me not only with additional theoretical knowledge on top of the degree course, but also invaluable practical experience," continues Kelly-Boxall. "That has to be a recipe for producing the high calibre engineers the country needs for a prosperous future. Other companies should seriously consider following NOJA Power's lead."
In addition to engineering cadetships, NOJA Power offers electrical apprenticeships and sponsors a PhD scholarship at the University of Queensland each year as part of the company's R&D program.