NOJA Power New Brazilian Office Factory Empowering Latin American Utilities
"To be world leader in medium voltage pole mounted switchgear". This is the NOJA Power Group corporate vision statement and another step towards achieving it has been taken with the establishment of NOJA Power Switchgear Do Brasil, in the city of São Paulo.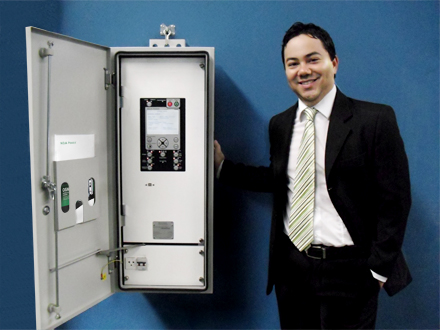 The new NOJA Power subsidiary in Latin America will include office and factory facilities to allow for all business activities to evolve further including sales, marketing, manufacturing and service of the NOJA Power´s OSM Automatic Circuit Reclosers and RC10 microprocessor based controllers.
NOJA Power has nearly a decade of history in Brazil where the OSM product is in reliable operation in the network of all major power utilities today. Design features such as reduced size and weight, solid dielectric insulation, arc fault containment and venting in a stainless steel tank, voltage measurement on all six bushings and functionalities such as full directional protection, built-in automation algorithms and powerful application software have turn the OSM product into the solution of choice for standalone and Smart Grid applications of several Power Utilities in Brazil and worldwide. Another key point of the company´s success in Brazil is NOJA Power´s unrivalled service and support provided by factory trained engineers and technicians available on a 24/7 basis to provide customized technical support and engineered solutions, assisting the users to make the most of their devices.
The new office and factory premises will allow for intense marketing and sales activities, as well as for the manufacture of the OSM Automatic Circuit Recloser up to 38 kV both for overhead and substation applications and the RC10 controller, being the first units scheduled to be outputted in the second quarter of 2012. The strict quality and environmental policies which are part of the NOJA Power business philosophy will also apply to the Brazilian branch and certifications such ISO 9001 and ISO 14001 are also on the way.
Whilst primary planned to supply the domestic market, NOJA Power Brazil will have the capabilities to assist other markets in Latin America, not only from the supply but also from the marketing, service and support perspectives, strengthening NOJA Power´s presence and business activities in that part of the world.
"NOJA Power established NOJA Power Do Brasil to service the Brazilian market due to the growing demand for pole mounted switchgear in Brazil. We see Brazil as the powerhouse of South America and the right location to develop our South American base. NOJA Power Do Brasil capabilities will be developed to manufacture our standard pole mounted switchgear products in Brazil to service the local and surrounding markets", says the Managing Director of The NOJA Power Group, Mr. Neil O´Sullivan.