Independent certification to international standards underwrites NOJA Power OSM recloser reliability
International standards were introduced to detail minimum specifications for reclosers such that the products performed reliably and safely. NOJA Power highlights the importance of Type Test Certificates to overcome confusion in the market as to which independent test house documentation proves that products fully comply with the standards.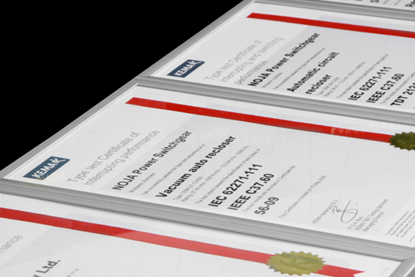 Electrical switchgear engineers NOJA Power today highlights the importance of Type Test Certificates as proof of compliance with international standards such as IEC62271-111 and IEEE C37.60 for automatic circuit reclosers (see "About IEC/IEEE international standards" below).
NOJA Power is clarifying confusion over test documentation by informing customers that only Type Test Certificates issued by independent test houses prove that a product has been verified to meet full IEC and IEEE standards. The company advises that while alternative documentation such as Reports of Performance can be useful for recording tests on particular aspect of a recloser's electrical function, they are not proof of compliance to international standards covering recloser electrical functionality and do not even state whether the product has passed or failed testing.
"Type Test Certificates – such as certificates with a gold label issued by KEMA, an independent test laboratory - are invaluable and unique because they are the only documents which certify that medium-voltage switchgear products (and all other components used in systems for the transmission and distribution of electrical energy) have completed and passed testing to verify that they meet international standards such as IEC62271-111 and IEEE C37.60," said Joop Hooijmans, General Manager of KEMA High-Power Laboratory in Arnhem (see "About DNV KEMA" below).
Detail from NOJA Power OSM recloser Type Test Certificate report.
"Other types of documentation, for example Reports of Performance, are useful but should never be taken as proof of product compliance with international standards as they are not intended for that purpose. Other types of documents always have to be studied carefully," noted Hooijmans.
NOJA Power's OSM reclosers (see "About the NOJA Power OSM recloser range" below) have been subjected to full type testing by independent test consultants DNV KEMA. The OSM38 recloser, for example, was tested for electrical performance including interruption duty cycle at 12.5 kA, load switching at 630 A, cable charging, line charging, dielectric withstand capability including 170 kV BIL across the open gap and 195 kV BIL phase-to-phase and phase-to-ground, wet and dry power frequency, temperature rise and mechanical operations testing.
The OSM38 recloser passed testing and NOJA Power received three Type Test Certificates from DNV KEMA, confirming successful testing and full standards compliance.
The OSM15 and OSM27 products have similarly been tested and received type test certification from DNV KEMA.
"Our advice to utilities is to ask the manufacturer for a Type Test Certificate from an independent laboratory to be sure that the recloser complies with the relevant aspects of the international standards and will perform reliably for many years," explained Oleg Samarski, NOJA Power's Service & Quality Director. "At NOJA Power we ensure all our OSM reclosers are certified so that our customers are reassured that our products perform reliably and are completely safe.
About IEC/IEEE international standards
The Geneva-based International Electrotechnical Commission (IEC) and New York-based Institute of Electrical and Electronic Engineers (IEEE) publish international standards for the electrical, electronic and related industries. International standards ensure that manufacturers develop products that meet defined specifications. Since 2002, IEC and IEEE have collaborated to avoid duplication when developing, adopting or revising international standards in order to accelerate their issue. IEC62271-111 and IEEE C37.60 ("High voltage switchgear and controlgear – Part 111: Overhead, pad-mounted, dry vault, and submersible automatic circuit reclosers and fault interrupters for alternating current systems up to 38 kV") covers the design, manufacture and test of automatic circuit reclosers, was first issued in 2005 as a harmonised international standard and carries the logos of both organizations.