NOJA Power's New Recloser Control Cubicle for Smart Grids
NOJA Power's RC-10 Communications and Control Cubicles provide new automation control solutions for the smart grid.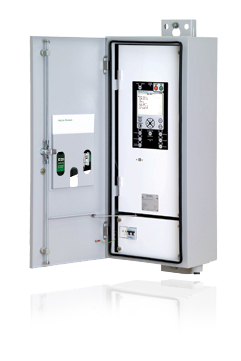 The RC-10 Control Cubicle is a new generation of remote communications control cubicle developed by NOJA Power. The microprocessor based controller combines a directional protection relay, auto reclosing, instantaneous metering, event logging and remote terminal unit for remote control in a single package. The Cubicle also comes with flexible protection features which include:
4 independent protection groups.
Directional over current and earth fault protection settings.
Inverse time and definite time protection settings.
High set instantaneous element settings.
Directional sensitive earth fault protection settings.
Voltage protection element settings including phase under voltage balanced, phase- to-phase under voltage element, loss of supply, phase and line-to-line over voltage.
Frequency protection and zone sequence co-ordination.
Inrush restraint, temporary time addition duty cycle, reclosing times, auto reclose, live line and hot line tag functions.
These advanced functionalities and processing power provides a flexible building block for the smart grid philosophy. Advanced SCADA communications capabilities are included as standard. Multiple communication protocols and equipment are supported. This remote capability opens the platform to a wide range of online smart grid applications. USB and RS232 RTU ports are available to provide a flexible method for SCADA communications, data logging and device configuration.
FPGA Parallel processor and more memory have been implemented in the RC10 which dramatically improves the processing speed and increases data transfer rates. This new hardware improvement dramatically increases the processing of critical measurements for reliable protection and allows up to 10000 load profile records to be stored in memory.
A new large LCD display has been included for increased visibility, data presentation and usability in the field. The RC10 cubicle is broken into three distinct modules:
SIM (Switchgear Interface Module) provides power supply battery charger and the capacitors for tripping and closing the OSM tank.
Relay Module provide main microprocessor and DSP functionality.
Operator Panel Module provides the operator interface.
The exterior of the cubicle is constructed out of powder coated stainless steel for a long, maintenance free lifetime; the roof of the cubicle is coated with a ceramic based insulating material that provides a 16 ° C reduction in internal temperature when the cubicle is exposed to 1.1kW of solar radiation. The Cubicle can operate over a temperature range of -40 to +55° C.
The entry point for the control cable is housed within a vandal-proof enclosure and the cubicle door has a three point handle locking mechanism making it extremely difficult to break into. The quality of the Cubicle has been stress tested using Finite Element Analysis Modelling to examine the mechanical quality of the product. Tests such as Vibration, Impact stress testing and Temperature rise testing have been performed to ensure the cubicles reliability and robustness in harsh environments.
Extensive Type Tests were performed to ensure reliability and its compliance with international standards. The type tests include:
Extensive EMC testing including compliance with FCC requirements.
Environmental Type Testing at rated temperature extremes, humidity, IP rating and salt spray.
Protection Operation and Measurement accuracy at the normal temperature and the rated temperature extremes.
Accelerated Electronics Life testing at normal and extreme temperatures
Operation of the recloser at the extreme temperatures
DNP3 protocol certification
Extensive firmware testing
Power Management of the electronics
Characterisation of the controller after the Interruption testing (fingerprint)
The Smart Grid ready RC10 Communication Cubicles are now in full production, providing more power, control and flexibility to the power grid.