NOJA Power's Commitment to Sustainability -Accrediting ISO14001
NOJA Power is committed to its environmental responsibilities through continuous monitoring of its environmental impact. NOJA Power has successfully implemented a continuous improvement Environmental Management System (EMS) in accordance with ISO14001.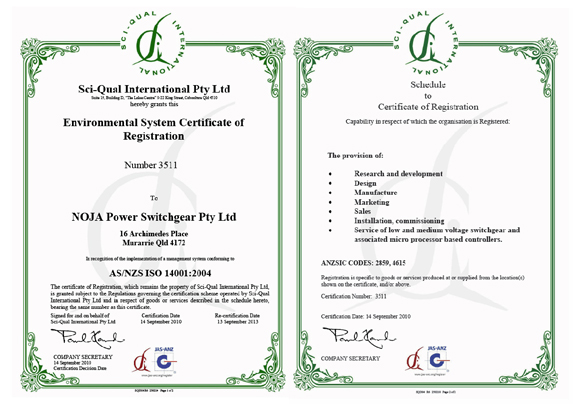 ISO14001 is an international standard developed to help organisations to minimize negative impact on the environment. It certifies organisations to have complied to applicable laws, regulations, and environmentally oriented requirements. It also ensures the continual improvement of their EMS. ISO14001 is now implemented in more than 159 countries and more than 220,000 organisations today.
NOJA Power is minimising its impact on the environment by observing the requirements of the ISO14001 standards. The environmental policy encourages environmental awareness through internal and external reporting of the environmental performance.
"NOJA Power's ISO 14001 Environmental Management System (EMS) has proved to be beneficial for the business and will ensure sustainable development" said Dr Rabiul Alam, NOJA Power EMS Management Representative.
NOJA Power supports the principles of sustainable development by promoting environmentally responsible work practices with compliance to all legal and statutory requirements and ensures all activities are conducted in the safest and most environmentally friendly manner possible.