Trade Queensland International Business Cadetship Successfully Completed
NOJA Power Switchgear has been a proud sponsor of the Trade Queensland International Cadetship Program in 2009. Recently completing the cadetship program is Arabella Ramsay, who was engaged at the Trade Queensland America's office, based in Los Angeles for 6 Months.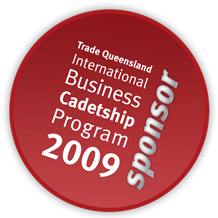 NOJA Power's Sales Director said, "The IBC program provided NOJA Power with a novel approach to research export markets, and provides a valuable experience for the cadet" Arabella Ramsay, Trade Queensland International Business Cadet, said of the program, "The IBC program is an incredible opportunity to gain real experience in the global business environment. Working as a member of Trade Queensland in Los Angeles, as well as in assisting my sponsor company in their export goals, I gained exposure to a diverse range of industry sectors and developed some excellent insights into the relationship between Queensland and the USA from a business perspective".
NOJA Power Switchgear offer a vote of thanks to the America's office team, led by Trade Commissioner Peter Beattie, for their assistance and hospitality during the cadetship, and the professional manner in which the IBC program was delivered.