NOJA Power OSM27 Type Tested at KEMA
NOJA Power has recently completed the successful re-type testing of the OSM27 recloser at KEMA in the Netherlands.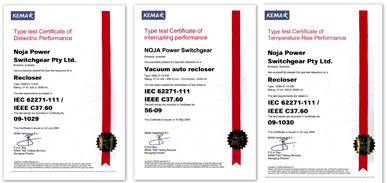 The original product was designed and released in 2002 and as many customers require type testing to be re-validated every 5 years, NOJA Power took the opportunity to completely re-type test the OSM27 product.
The type testing was witnessed by representatives from NOJA Power and CEMIG from Minas Gerais in Brazil. CEMIG and NOJA Power have a supply contract in which the type testing was required.
NOJA Power took the opportunity to contract KEMA to certify the equipment to IEC62271-111 as well as IEEE C37.60.
Three new type test certificates have been issued as the result of the successful testing to confirm compliance with interruption performance, dielectric performance and temperature rise performance of the equipment.