Practical Perspective on Recloser Training
Engineering Trainees in Hermosillo, Mexico, were treated to an impromptu practical demonstration when a nearby OSM Recloser operated to lockout on a 3kA earth fault.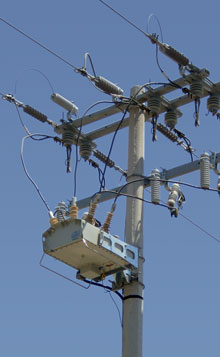 The OSM Recloser was minutes away from where Service Director Oleg Samarski was conducting a training session on the OSM Recloser to the installation and service crew. The training covered basic recloser configuration theory and applications and advanced data analysis using TELUS - the OSM Recloser's built-in data analysis software.
Oleg used this opportunity to demonstrate the OSM's advanced data-logging and reporting functionalities in a real-world setting. Connection was made to the device using TELUS software and the data was downloaded and analysed. This allowed Oleg to demonstrate how the software translates the data into relevant, useful Information and was able to diagnose the cause of the fault.
This was a great opportunity for the trainees to view the practical applications of their training on the recloser device successfully operating in +42°C conditions.