NOJA Power Teams up to Supply PNG Power
NOJA Power was contracted by B&M Engineering to supply control panels for 800kW, 600kW, 250kW and 150kW diesel generators for Popondetta, Vanimo, Maprik and Finschhaffen Power Stations in Papua New Guinea.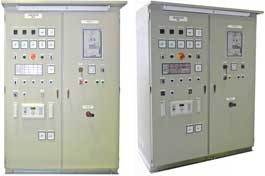 The PNG Power Specification called for voltage controlled overcurrent / earth fault, under voltage, loss of field or reactive power and reverse / low forward power protection with differential protection required for generators 500kW. Accordingly, the 600 and 800kW panels were fitted with Areva P343 protection relays and custom designed CT's to detect any imbalance arising from an internal generator fault. Since differential protection was not a requirement for the 250 and 150kW panels, they were supplied with Areva P342 relays. Terasaki TemPower2 ACB's were used in all cases to switch the generator onto the load bus.
A Deep Sea Electronics Engine Control Module was integrated into the control panel to allow the generator to synchronise onto a live bus before connecting to it. For the smaller generator sets the DSE5510 also provided engine cranking and overspeed monitoring.
To assist operators in quickly identifying the cause of any ACB or generator shutdown operations, the specification called for an engraved annunciator panel with a mix of coloured warning lights. Each annunciator had different modes of operation specified for alarm, warning and acknowledged states. In order to simplify sourcing future spare parts, the specification deliberately excluded PLC control resulting in lots of relay logic with more than a kilometre of 2.5mm2 control wire in each of the 6 panels. With their high mechanical operations and robust construction, Sprecher and Schuh CS4 control relays were selected to provide long life and trouble free operation.