NOJA Power Commended for Manufacturing Endeavours
The Manufacturers' Monthly Endeavour Awards celebrates the manufacturing industry's contribution to Australia's economy and society.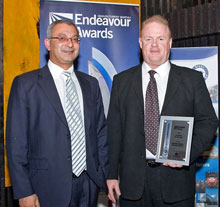 Started by Manufacturers Monthly in 2003, these awards are the only ones in the country that are exclusive to the manufacturing industry.
Now in its fifth consecutive year, the 2008 Manufacturers' Monthly Endeavour Awards was held on the 28th of May and saw over 250 guests in attendance at a gala dinner at Doltone House in Sydney. Among the distinguished guests was Minister for Innovation, Industry, Science and Research, Senator Kim Carr.
Senator Carr introduced the awards with an acknowledgement of the manufacturing industry's significant contribution to Australia's economic prosperity and the key role it plays in the drive for innovation, with almost 40 percent of business expenditure on research and development.
Recognising the importance and vast potential for growth of the manufacturing sector, Senator Carr voiced his thoughts on the current state and future challenges it is set to face.
"The sector provides jobs for over 1.1 million Australians and contributes more than 10 per cent to GDP. Last year manufacturing exports were over $87.1 billion.
"Over the past five years, manufacturing exports have increased 5 per cent per annum, up 7.2 per cent in 2007.
"Despite such positive performance, manufacturing still faces impediments to growth.
"A shortage of skilled workers, infrastructure bottlenecks, and a tangle of regulation are some of the challenges that need to be overcome.
"From the government's point of view, we take manufacturing very seriously and intend to bring a lot more energy and focus to industry policy," Senator Carr said.
Of the nine award categories, NOJA Power Switchgear Pty Ltd was Highly Commended in the Exporter of the Year category. This is a substantial achievement for NOJA Power, proving their success has continued to grow in the wake of receiving last year's top honors at the Queensland Exporter of the Year Awards.
NOJA Power Switchgear's Managing Director, Neil O'Sullivan, commends the team at NOJA Power on their contributions to the company's continued success and ensures achievements will exponentially increase over the coming years. This is a foreseeable future with NOJA Power's recent factory expansion further driving the company's low voltage switchgear and medium voltage autorecloser manufacturing capabilities.
"NOJA Power's foundation lies in manufacturing products for global applications. With a competitive edge on a globally ready product, we are continuing to expand our worldwide distribution capabilities and marketing channels," Neil said.
Receiving the High Commendation at the Manufacturers Monthly Endeavour Awards has further instilled NOJA Power Switchgear as a key player in Australia's electrical manufacturing and exporting industry.