NOJA Power Awarded for Continued Exporting Excellence
Due to the larger scale of the newly acquired NOJA Power Factory at Murarrie a new workplace production system has been implemented in order to significantly improve productivity and workflow.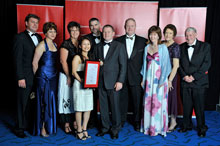 NOJA Power has recently received the 2008 Australian British Chamber of Commerce Export Award and was also recognized as a finalist in the prestigious Premier of Queensland 2008 Exporter of the Year awards.
NOJA Power now exports to more than 70 countries around the world from its Brisbane factory which operates two shifts per day to service the demand for its pole mounted switchgear products.