Brazilian Intern Graduates & Joins NOJA Power Distributor
Bruno Kimura is an Electrical Engineering Graduate who has joined NOJA Power's Distributor in Brazil, Festimport Exportação Ltda.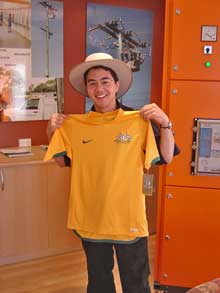 He is an exceptional young man who took it upon himself to make application for an internship with NOJA Power for six months in late 2005. He was successful with this application and in January 2006 he began a six month internship with NOJA Power. In his own words he states, "The six months whilst I had my first and memorable work experience was marked by the trust the company put on me, the incentive I was given in every task and the friendships I made."
During his internship he completed tasks like converting recloser control panel MMI strings from English to Portuguese. Today the control panel is available in Portuguese as a result. He then spent time on the production line and in the electronics laboratory where he assembled reclosers, manufactured cables and tested communications between modules.
As a result of his Portuguese skills he also became an interface with our Brazil Distributor which provided his first introduction that lead to the full time job he has today.
He then embarked on the major task of his internship and designed a new low voltage test bench as well as a 20kV high voltage test source. For both of these tasks his responsibility included research, design, manufacturing drawings, sourcing components and then overseeing the assembly and test of the finished products. The project was completed successfully. During Bruno's time in Australia he made many friends and those friendships will always exist.
He then returned to Brazil to the University of Sao Paulo where he completed the final year of his Engineering Degree successfully and has now graduated as an Electrical Engineer. Because of his internship he made particular focus on the last part of his degree in power engineering.
He has now joined the Festimport Exportação Ltda team to provide technical support for our Brazilian customers and is very well qualified to do so as a result of his internship.