Exponor Conference - Chile
Recognising the significant mining capability available in Queensland, the Queensland Government recently assembled a delegation of both government and corporate representatives to exhibit at the Exponor Mining Conference in Antofagasta Chile.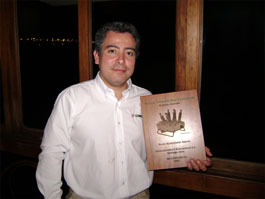 The Exponor Conference is held in Antofagasta, North Chile in the heart of the Chile mining belt. With just five others, NOJA Power was invited to attend and joined the Queensland Government in the combined stand.
It is a great initiative by the Queensland Government Department of Trade and International Operations Division. Neil O'Sullivan, Managing Director of NOJA Power said "We expect that both our low and medium voltage products will see increased growth in the Chile region as a result."
Also exhibiting at Exponor was Comulsa. Comulsa is exclusive Chilean distributor of NOJA Power products and their stand complimented the Queensland Government exhibit.
NOJA Power was also pleased to present Comulsa's OSM Recloser Product Manager, Juan Jose Navarro, with a Sales Achievement award for exceeding 3 million dollars in sales of NOJA Power OSM Recloser products in Chile. Juan Jose graciously accepted the award on behalf of the entire Comulsa team.