Trinidad & Tobago Electricity take delivery of NOJA Power OSM Reclosers
NOJA Power has completed a contract to supply 55 only OSM15 automatic circuit reclosers to the Trinidad & Tobago Electricity Commission (T&TEC). The OSM15-16-630-110 reclosers were supplied complete with the RC01ES recloser control and communications cubicles. TELUS, the optional PC programming and remote control software, is included as standard.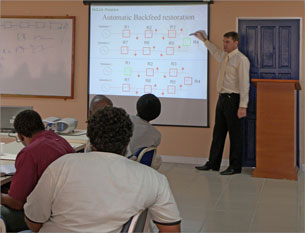 T&TEC selected the OSM15-200 Series product on the basis of a technically superior product, proven field reliability and a strong commitment to support, service and training.
As part of NOJA Power's scope of supply detailed training was conducted in Trinidad by NOJA Power's Oleg Samarski. The training covered all aspects of the use of the OSM15 recloser including sessions on protection, SCADA and data logging use and capability of the equipment. Particular attention and interest was paid to the TELUS PC based software package which has a built in protection co-ordination package that T&TEC used to design the protection systems where the reclosers were installed.
With T&TEC's customer focus to increase reliability of supply and reduce customer minutes lost, the built in distribution automation features of the OSM-200 Series product were studied in detail and are expected to be deployed initially on a trial basis on the network in Trinidad and Tobago.
DNP3 communications protocol was studied and T&TEC have a current program to develop full SCADA and remote control. These units will be integrated using the inbuilt RTU's into the new SCADA remote control system.
The OSM15-200 Series product is ideally suited to the Caribbean hot and humid climate due to its full stainless steel construction. Coastal applications are also suitable due to the fully encapsulated silicon rubber bushings that offer a high pollution rating.
With Trinidad and Tobago having a population of more than one million people and a burgeoning economy, the expanding growth and demand for electricity will see the NOJA Power OSM15-200 reclosers capacity fully utilised with feeders running load currents of up to 600A.