Standardised Motor Control Centre Design Guarantees Quality Result
NOJA Power has entered the Motor Control Centre market with a standardised product designed to increase quality and reliability.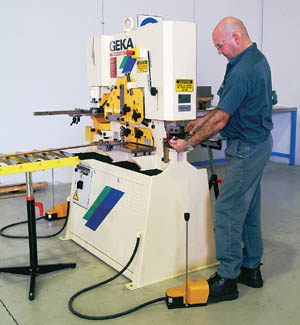 Motor Control Centre switchboards have traditionally been custom designed and manufactured. This process lengthens the time it takes to deliver a final product and ultimately affects the overall build quality. NOJA Power has decided to introduce a completely standardised design to eliminate these shortcomings.
First a full set of engineering drawings are designed and approved. The metalwork is then manufactured with holes and slots pre-cut and painted. This eliminates the use of hand tools to cut holes during construction which is often messy and poorly painted.
The motor control drive modules are pre-designed and wired on a production line. These are standard units which are installed into the switchboard off the shelf. The customer simply specifies the size of drive required. There is no need to custom design the wiring. NOJA Power uses the same, proven, switchgear modules each time.
The advantages of this approach are clear. By choosing standard, pre built modules, we can ensure the build quality using standard production line techniques. Modules are made in batches, each is wired the same way, mistakes are rectified at the module testing phase, rather than after installing into the switchboard.
Rather than force a custom design into a standard switchboard, NOJA Power strongly feels standard board designs should be fitted with standard, pre-designed modules. As a result customers can expect a high level of reliability and quality.