New Shipment to Bangladesh
Another 40' container has been lifted from our hard stand at our Murarrie factory bound for Bangladesh.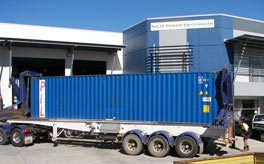 This is the third contract of supply to Rural Electrification Board Bangladesh for the OSM recloser product. This shipment includes 43 only OSM15, 15kV automatic circuit reclosers complete with substation mounting frames. REB will install these reclosers in new rural zone substations to protect the outgoing 11kV overhead feeders. The OSM15 recloser is ideal for these rural zone substations due to its light weight, ease of installation without the need for heavy machinery as well as its 16kA interruption capacity, 630A continuous current rating and 30,000 full load operation rated life.