Keeping the lights and heaters on in Europe's winter
Cold weather often means decreased accessibility to remote power distribution equipment due to environmental conditions. Heavy snow and untrafficable roads can mean heavy machinery and many hours to reach and service a fault in a distribution line. Lengthy breaks in supply are obviously undesirable to both service providers and consumers and so it is important that distribution networks use reliable intelligent switchgear which can be remotely monitored and controlled.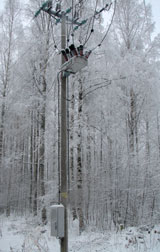 In winter, northern hemisphere temperatures begin to drop and the install base of NOJA Power OSM Reclosers in countries like Finland will operate in temperatures that reach -40°C.
Rated for use in environmental extremes from -40°C to +55°C ambient temperature, the NOJA Power OSM27 recloser is being used in an ever widening range of locations for its automated intelligence, reliable reputation and wide feature set.
In Finland where a lot of radial feeders are used, installing several reclosers in series to sectionalise faulted sections of line during heavy snow storms has helped utilities increase reliability. Each recloser location is carefully planned and protection is graded to maximize results.
Remote control and monitoring is installed using GSM modems or VHF/UHF radio systems giving access to the full function of the auto reclosers control unit remotely.
By isolating faults along feeders on the feeder and remote control to attempt remote close operations, reliability has increased significantly – and reliability provides many benefits.
With reduced line crew deployment and revenue losses, the cost benefit to the service provider is obvious. Significantly, improved reliability is of immense benefit to the general community. Constant productivity, no loss of services and no extra inconveniences are of great value and calculated savings of up to €100,000 per annum per recloser installation have been estimated.
Automation and remote control abilities are valuable capabilities of automatic reclosers. These features, which can significantly reduce costs associated with the maintenance of distribution networks, are particularly beneficial during harsh conditions. These benefits are significant to both business and the public.